Nylon-MXD6 is available as moisture-proof pellets packaged with a water content of 0.1% or less. Further drying of the Nylon-MXD6 after unpacking it is unnecessary; it is ready for molding. However, MGC recommends the use of containers, hoppers, etc. which are capable of maintaining the Nylon-MXD6 in a dry state, during the molding process.
If Nylon-MXD6 is left for a long period of time after unpacking, it may absorb moisture during the molding process, resulting in bubbles or silver streaks. When such problem develop, heat and dry the Nylon-MXD6 under reduced pressure as shown below.
Drying Conditions

Temperature

120~140℃

Drying Time

4~5 hrs

Pressure

0.5~2mmHg
Fig. 16 shows the hydroscopic behavior of Nylon-MXD6. Fig. 17 shows the change in water content of Dry pellets of Nylon-MXD6.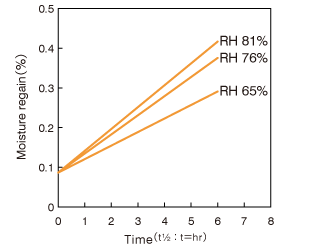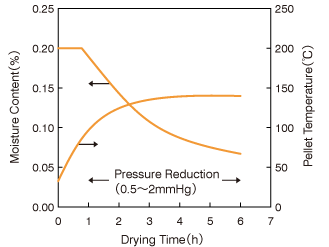 Inquiries Concerning Products
Basic Chemicals Business Sector
High-performance Products Division
Polymer Materials Department
TEL:+81-3-3283-4800 / FAX:+81-3-3214-0938