Medium-term Management Plan "MGC Advance2020"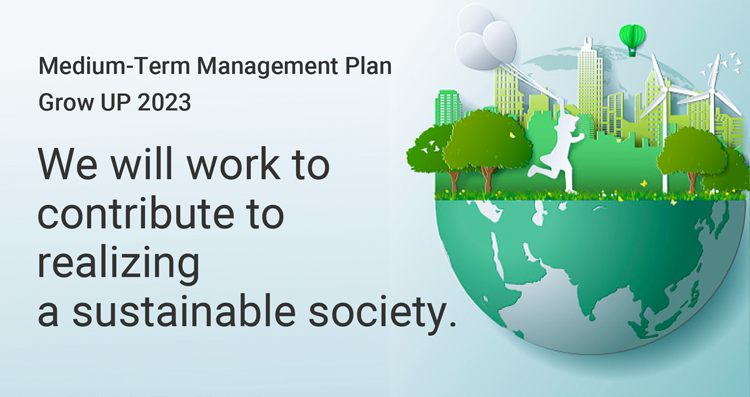 We have formulated two fundamental objectives and five strategies for achieving these objectives in the aim of realizing a brighter future from bigger dreams.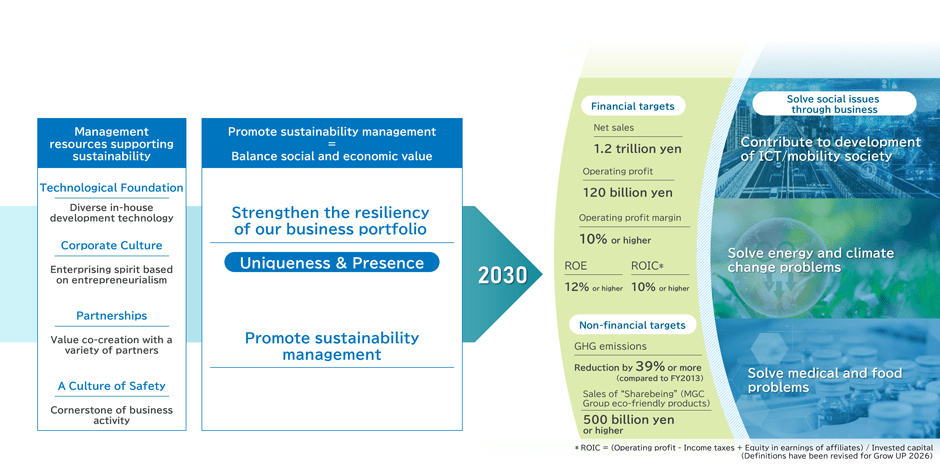 Fundamental objectives
1. Enhancing the corporate value of the MGC Group
The MGC Group will further enhance its corporate value through its management strategies and by expanding its existing businesses and advancing into new business areas while constantly pursuing safety, efficiency, productivity, and profitability.
2. Deepening the trust of MGC Group stakeholders
The MGC Group will seek to deepen the trust of all stakeholders in its operations and fulfill its corporate social responsibility as we realize sustainable growth.
Strategies: Five strategies for achieving the fundamental objectives
Strategy 1: Strengthening the earning power of existing businesses with a focus on core businesses
Focus management resources on the core businesses that are the company's strengths and enhance the profitability of existing businesses.
We will enhance the profitability of existing businesses by improving our technology, maintaining our competitive advantage, and efficiently developing markets for our products.
For our existing products, we will develop new applications and markets while also developing applications in new business areas.
We will conduct safe and stable production operations to enhance our profitability and strengthen our business base.
Strengthen the business base:

Realize a smooth start of operations of the Methanol and Dimethyl ether plant in Trinidad and Tobago and two new super-pure hydrogen peroxide plants in North America.
Strengthen production capacity for super polycarbonate resins and our domestic MXDA plant(2019).
Begin to plan to construct new MXDA plant (2022).

Expand the lineup of competitive performance products:
Organic Chemical products, MXDA, MX-Nylon, Aromatic aldehydes, Electronic chemicals, High-performance Polycarbonates resins, Super Polycarbonate Resins , BT materials, and Oxygen absorbers.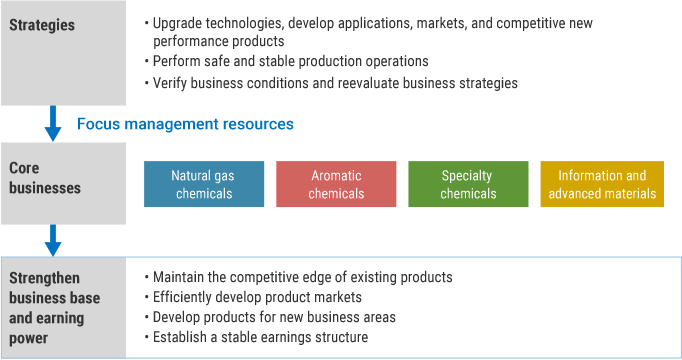 Strategy 2: Creating and developing new businesses
The MGC Group will ensure it continues flourishing by actively developing new technologies and products and creating and developing new businesses. Specifically, we will aggressively invest in the fields of medical and food, information and communications, and mobility.
We will develop and launch new technologies and products by increasing our sensitivity to market changes influenced by megatrends and to the speed of those changes. We will also identify specific target markets and seek to launch products in a timely manner to ensure maximum success.
We will generate new business by incorporating new management approaches, such as partnerships and M&A, and by actively applying our management resources.
We will focus on creating and growing new businesses :
The Life sciences business, Medical packaging materials, Transparent polyimide resin, Raw material for under-layer used for circuit patterning, LiBH4-based Solid Electrolytes, and Direct methanol fuel cell.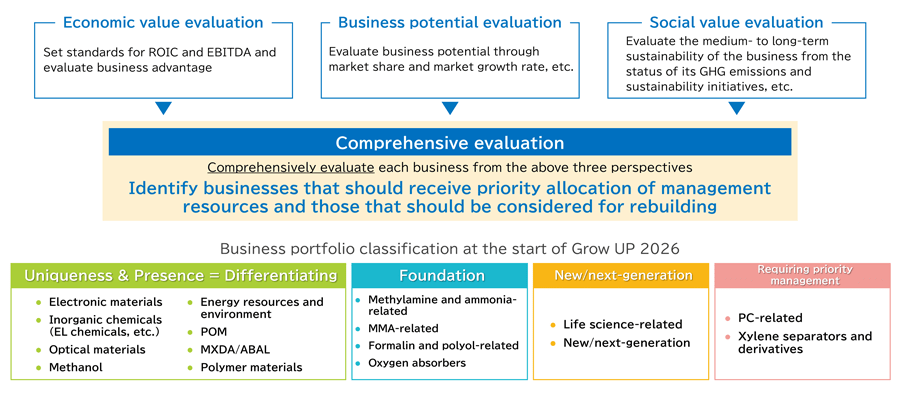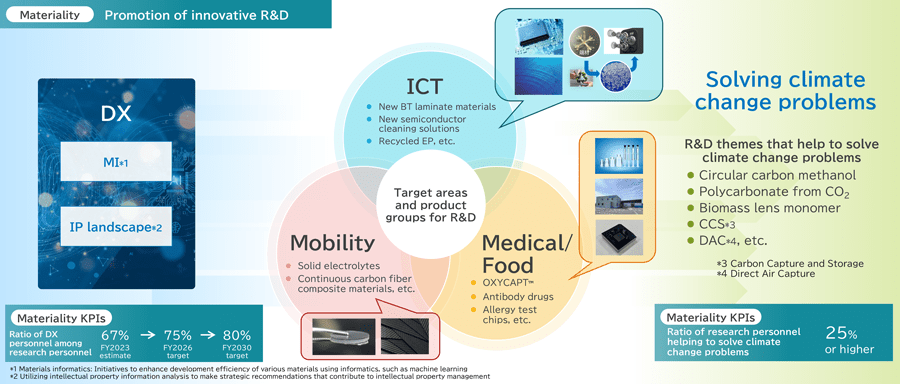 Strategy 3: Implementing investment strategies to form an optimal business portfolio
We will devise and implement an investment strategy for forming an optimal business portfolio to establish a stable earnings structure for the Group.
We will devise and implement an investment strategy that diversifies revenue sources by constantly generating new technologies, products, and businesses, and that supports a balance of commodity, high-performance, specialty, and new products within the MGC Group.
We will formulate investment strategies that take into account how megatrends are changing the markets for our products and how quickly the markets are changing. Investments will be geared to growth with the aim of enhancing our corporate value.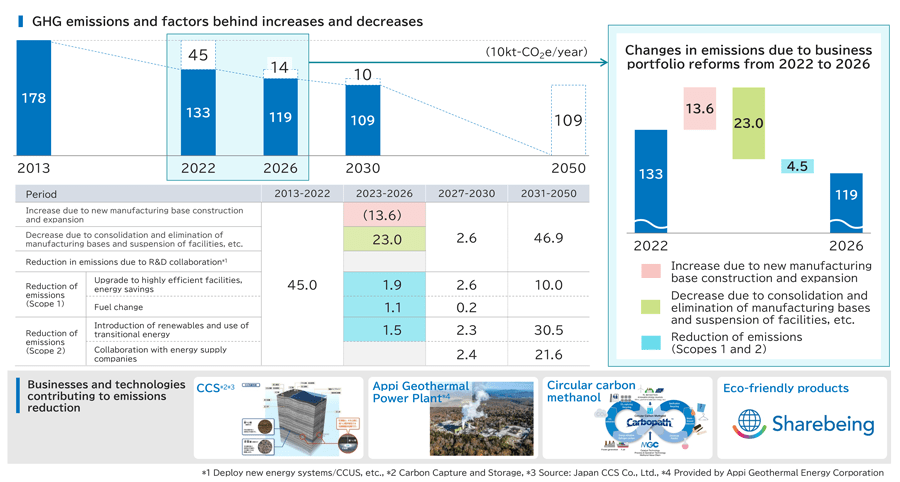 Strategy 4: Promoting unified MGC Group management
We will share management strategies throughout our organization and conduct daily operations as a united group of companies to enhance the overall corporate value of the MGC Group.
We will accurately determine Group information and continue striving to improve the efficiency of our Group management by introducing business management units (BMU) to facilitate standardizing and integrating our consolidated business administrative and accounting systems.
We will make our investment management methods more sophisticated from the Group perspective, including formulating an accurate performance evaluation system capable of appraising all of the various investment activities of the Group.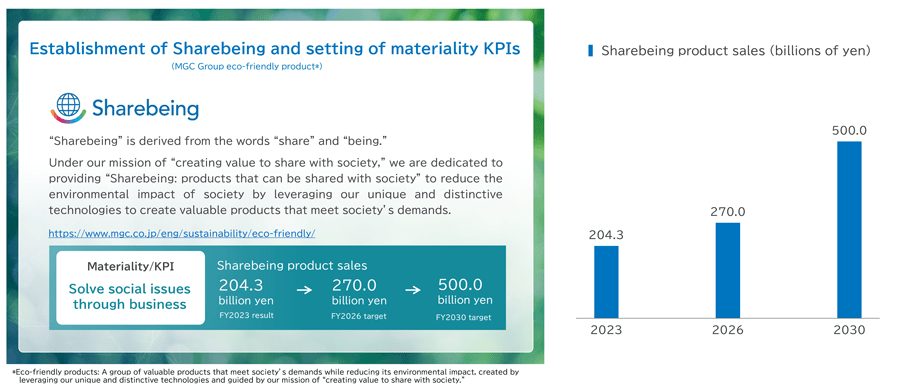 Strategy 5: Improving total enterprise quality to support sustainable growth
We will constantly improve the qualities of management resources, including personnel, capital, technology, information, brand, and intellectual assets, and manage and apply these resources effectively.
We will raise the level of our awareness and culture of safety in our operations and deepen its application throughout the Group.
We will strive to operate an effective corporate governance system that we will continually reinforce.
We will practice compliance while readying and strengthening systems for responding to any manner of risk.
We will develop human resources.
We will cultivate research and development capabilities that encourage innovation.
We will improve the efficiency of our information systems.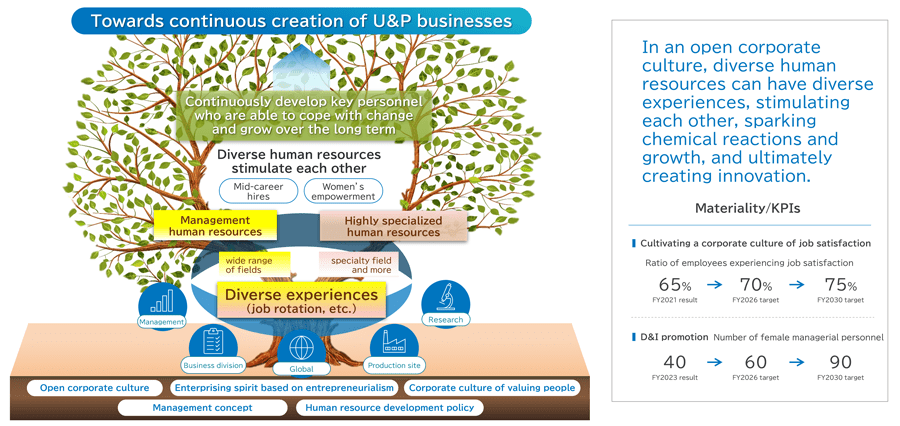 Numerical Targets
Consolidated earnings targets for fiscal 2020 (JPY in billions)
| Consolidated performance | Fiscal 2020 targets |
| --- | --- |
| Sales | 750 |
| Operating income | 65 |
| Ordinary income | 90 |
| ROE | 12% or higher |
Assumed conditions:
Exchange rate:110 JPY/USD
Crude oil price(Dubai) 60US$/bbl