Research and Development Organization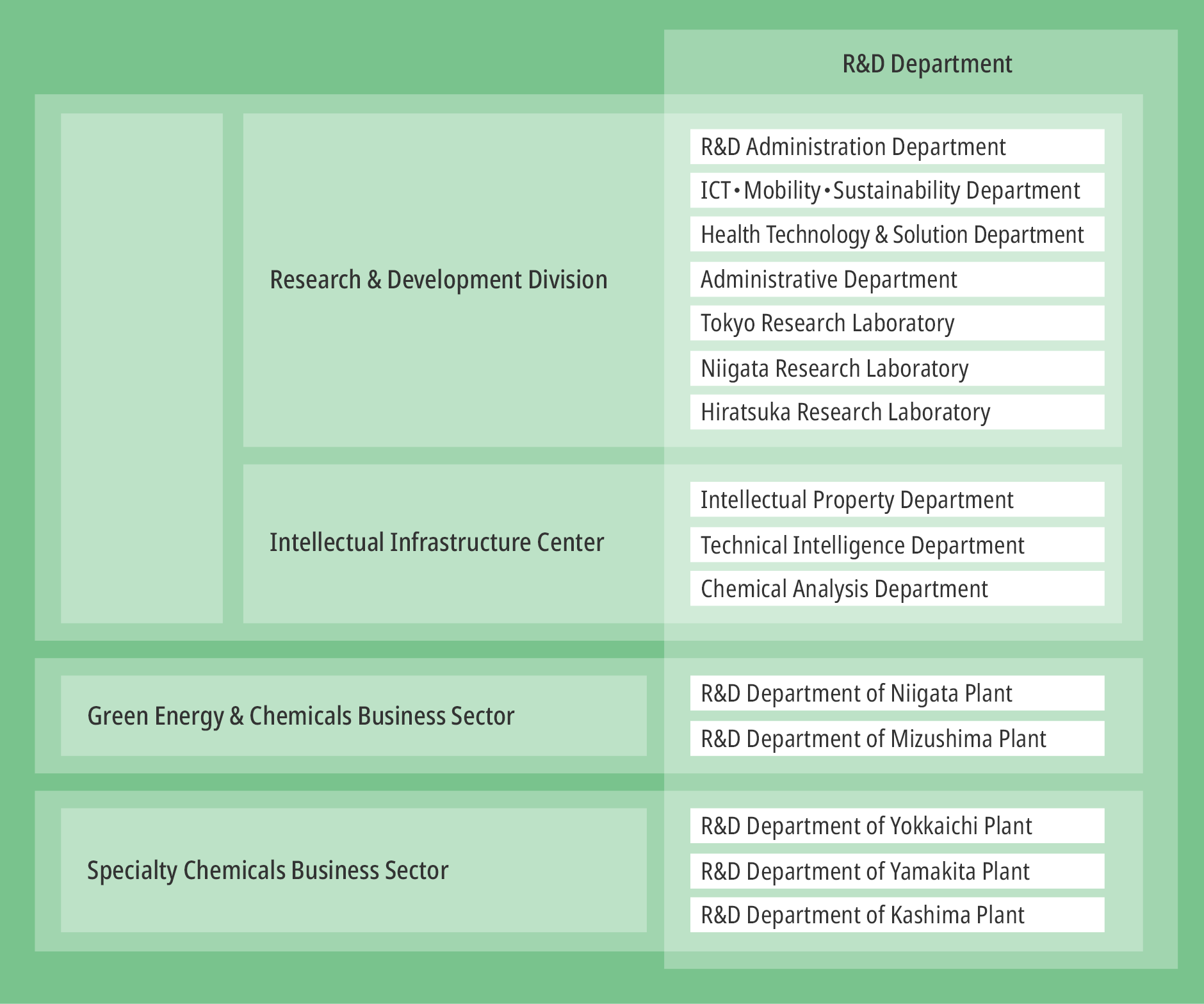 MGC has three research laboratories that directly report to R&D promotion Division.
Each plant has its own R&D Department, etc.
The main purpose of each the Research Laboratory is to enhance competitive businesses, develop new products based on existing products and technologies, and conduct R&D aimed at creating new core businesses in areas with medium- and long-term promise.
The R&D Department of each Plant deals with improvements in production technologies and applied product research.
The R&D Administration Department handles R&D for the entire group, and the Intellectual Property Department provides support for research and development activities related to intellectual property.
The Chemicals Analysis Department offers company-wide analysis and safety testing services.
Research and Development Data
In order for MGC to continue to develop as a highly differentiated, widely recognized chemicals group operating from a strong platform of proprietary technology, we make a strong effort in research and development. The number of employees engaged in R&D activities total 891 (consolidated, approximately 11% of all employees), and in 2018, the R&D costs account for around 3% of sales.
R&D expenditures (consolidated)
(Unit: Billion yen)
| Year | 2013 | 2014 | 2015 | 2016 | 2017 | 2018 |
| --- | --- | --- | --- | --- | --- | --- |
| Sales | 534.4 | 529.5 | 593.5 | 556.4 | 635.9 | 648.9 |
| R&D expenditures | 16.1 | 16.8 | 18.9 | 19.2 | 18.9 | 18.6 |
| Rate of R&D expenditures in sales (%) | 3.0 | 3.2 | 3.2 | 3.5 | 3.0 | 2.9 |
Results of R&D expenditures (consolidated)