Oxygen and Moisture Free Packaging solution
The advantages of RP System
Customer's claim free
The RP system maintains your product quality just after production until using at the customer. If your products get damage by moisture or oxygen, such as deracination, less soldering or bonding, discoloration, moisture absorption and etc during transportation, RP system is the best solution.
Long term storage of devices / PCB
Some customer request a long term supply of maintenance parts. However, it is quite difficult, almost impossible to continue production in spite of small sales volume. RP system solves this serious problem. Divide final production / purchasing lot into a small portion, then packed by RP system. These products are able to sell long after the production date. With respct to the long-term storage of electronic devices, please refer to the GEIA-STD-0003, US Gervernment Electronic and Information Technology's Association.
Rust proof oil / chemical free
If Rust proof oil, paper, film or chemical(VCI) makes no satisfaction, try RP system. RP system is applicable both transportation by boat and long-term storage without rust / tarnish. Also cleaning process is not required prior to use.
Preservation Test Results
Copper Solderability Test with Copper Strips
With RP System
With Desiccant
No preservative

Solder flows evenly as on new pieces.
Uniform adherence as seen in the cross-section.

Solder does not flow and adhere in many areas.
Bubbles are seen even where the solder is adhered.

Solder does not adhere at all.
[after 500 hours in multi-layered aluminum bag at 60℃, 95% RH]
Wire bonding Test Results (Wire-pull test using 30µm gold line)
| | Gold flash plating on Ni under plating 0.05µm | Gold electrolysis plating on Ni under plating 0.2µm | Silver plating 3µm |
| --- | --- | --- | --- |
| With RP System | | | |
| Exposed to air | | | |
Base metal is copper(Nickel plating under gold plating)
Gold wires are bonded on to the test pieces after storage under 85% RH and 85℃ for 14 days.
As the photos show, all three in the row of RP System preservation, the gold wire snapped at the mid-section indicating secure bonding to the plated surfaces while the row of air exposed pieces show all the gold wires detached at the second bonding area, indicating unacceptable bonding strength.
Even a thick gold plating shows strength degradation due to oxidation on plated metal.
Usage examples: (samples for actual uses)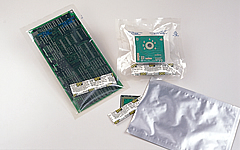 Printed Circuit Boards
The RP System keeps PC boards from oxidation and absoption of moisture. It is already being used for both rigid and flexible boards. Convenient for import/export and long-term storage.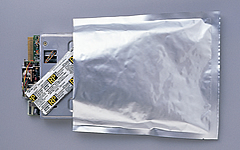 For Long-term storage of packaged units for repair
Can preserve the quality of maintenance or repair parts for extended time. At the same time, cut down production frequency.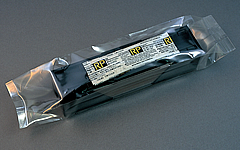 BGA circuit boards
The RP System helps to maintain the bondability of the board as well as keep it dry.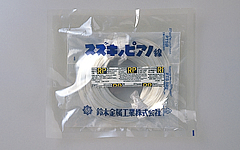 Silver plated wires
The RP System prevents discoloration of silver plated wire during shipment and storage.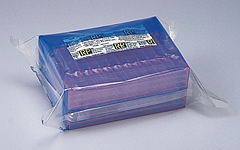 Hard Disk Drive (HDD) Heads
Packaged for export, the magnetic heads of HDD to be assembled in a clean area are preserved with the RP System.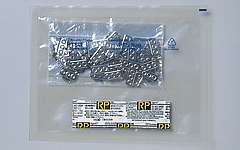 Electronic parts
Keeps these electronic parts in mint condition even after shipment.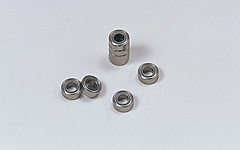 Free of Rust-Proofing Oil
Machine parts can be preserved or shipped without application of rust prevention oil.
Immediate application of oiless parts speeds up production by avoiding washing and drying.
Inquiries Concerning Products
Specialty Chemicals Business Sector
Oxygen Absorbers Division
TEL:+81-3-3283-4867 / FAX:+81-3-3287-1785