Preservation of culture media
Anaero Pack- Keep, AnaeroPouch- Keep are oxygen absorbers for preservation of culture media. The problems of previous method
Unused culture media for anaerobes should be anaerobically stored at cool temperature. Under aerobic atmosphere, oxygen will be dissolved in media which may lead worse grow of anaerobes.
By refrigerating culture medium using AnaeroKeep helps the growth of anaerobes when the medium is used. And it enables to preserve the medium longer.
for Standing-Pouch/Anaero Pack- Keep
Best suited for storing large numbers of anaerobic culture media. Please use it with standing-Pouch.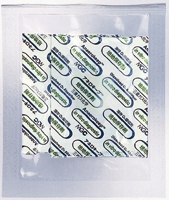 for Pouch / AnaeroPouch- Keep
Suitable for storing small numbers of anaerobic culture media. Use with Pouch-Bags. Absorbs oxygen in half day to create suitable atmosphere for the preservation of anaerobic media. Anaero-Indicator may turn to pink in half a day or so after O2 concentration becomes zero.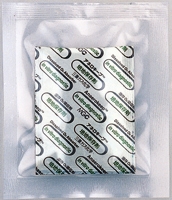 about preservation
When using Standing-Pouch:
Close the upper side of the Pouch by Pouch-Clop by eliminating air. If other containers are used, it could lead to difficult opening of the lids caused by negative pressure, Cannot be used with Rectangular Jars.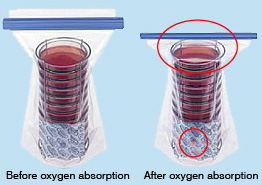 When using pouch:
Up to six plates can be stored. Close with Pouch-Clip by eliminating air. Can be repeatedly open for 2 to 3 times.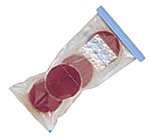 Inquiries Concerning Products
Specialty Chemicals Business Sector
Oxygen Absorbers Division
TEL:+81-3-3283-4867 / FAX:+81-3-3287-1785