Anaero Pack- CO2, AnaeroPouch-CO2 are CO2 generator for Capnophilic cultivation. Only to open the aluminum pack and to put white sachet into the container. No need to add water. No need to use catalyst.
for Jar / Anaero Pack- CO2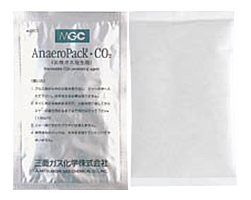 Use with anaerobic Jars or W-Zip Standing Pouch with Petri Dish Rack. Use 1 sachet for 2.5-liter jar.
Composition change of the gas caused by Anaero Pack-CO2
This type of AnaeroPack produces a CO2 concentration of about 5%.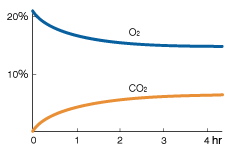 ※The sachet generates about 5 % of CO2 and promotes growth of capnophiles (e.g. Hemophilus sp., Neisseria sp. etc.).
※Usable for searching the responsible bacteria of RTI, such as Streptococcus sp. And Branhamella catarrhalis. It is also reported that S.pneumoniae, S.milleri group grew better than candle Jars.
for Pouch / AnaeroPouch- CO2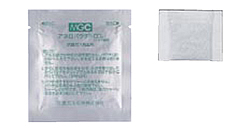 For Pouch-Bag, W-Zip Pouch-Bag and Thin-Type Jar.
For 2 petri dishes. Suitable for 2 plates. If only 1 plate is needed,place an empty plate in the pouch to maintain constant volume.
How to use AnaeroPouch :
(Common to anaerobic, microaerophilic and capnophilic)
1

After opening aluminum bag, put sachet into the pouch immediately.

2

Seal the pouch along broken line with clip avoiding wrinkle. Do not contain air in the pouch too much nor too less.
(In case of W - Zipper, close carefully.)
Inquiries Concerning Products
Specialty Chemicals Business Sector
Oxygen Absorbers Division
TEL:+81-3-3283-4867 / FAX:+81-3-3287-1785