High-Purity Hydrogen Gas Production Equipment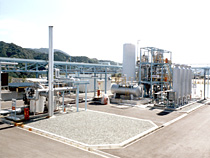 This process, which was developed collectively with Mitsubishi Gas Chemical's original Methanol -related catalyst technology, is a process for producing hydrogen from Methanol . It is comprised of a steam reforming process in which a simple mixed vapor of Methanol and steam is fed to the catalyst developed by MGC and broken down, in conjunction with the well-known PSA (pressure swing absorption purification technique) as the gas purification technique.
This process produces and supplies High-purity hydrogen gas production equipment on-site simply and economically.
The demand for High-purity hydrogen gas production equipment is rapidly growing in the electronics, fine ceramics, and fine chemical industries. Hydrogen gas for fuel cells and gas turbines is also attracting attention in the field of next generation energy.
Inquiries Concerning Products
Basic Chemicals Business Sector
Methanol Division
Marketing Department
TEL:+81-3-3283-4771 / FAX:+81-3-3287-0837