Iupizeta™EP, Optical resin polymer
Iupizeta™ is proprietary Optical resin polymer developed by Mitsubishi Gas Chemical.
The Iupizeta™ EP Series has been used in smartphones and many other highly functional precision lenses owing to its high optical properties.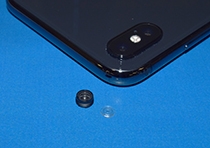 Properties
High refraction
Low birefringence
High transparency
High heat resistance
High processability
Production site
Kashima Plant, Niigata Plant
Packaging
For technical data, samples and other information, please contact the following.
For products developed for electronic devices, binders, wet molding, film, sheets and other special uses, click here
Iupizeta™, Solvent-soluble special polycarbonate polymer
Inquiries Concerning Products
Specialty Chemicals Business Sector
Optical Materials Division
TEL:+81-3-3283-4933 / FAX:+81-3-3283-4820