MGC invests in three companies to accelerate medical business development
July 19, 2018
Mitsubishi Gas Chemical Company, Inc. (MGC; Head Office: Chiyoda-ku, Tokyo; President: Toshikiyo Kurai) has invested in three companies engaging in medical business development.
In recent years, medical industry is paying increasing attention to sophisticated technologies that improve the quality of medical care and quality of life. For example, rapid diagnosis facilitates for early treatment/care, while regenerative medicine makes it possible to eliminate the very cause of the disease or injury in question by reproducing tissues and organs using cells and tissues cultured in vitro. The market for such techniques is expected to grow rapidly in the future.
Precise forming technology is required to reduce the size and increase the functionality of test/diagnosis devices used for rapid diagnosis. Expecting to fully leverage its chemical and material expertise in this field, MGC is investing in CONSONAL BIOTECHNOLOGIES Co., Ltd., Japan's largest comprehensive research institution "RIKEN" certified venture, and WhiteSpace Enterprise Corporation, a venture created from innovation at the University of Arizona to conduct research and development of biomolecular technologies with a view to entering the market in the future.
Also, MGC's investment in NC Medical Research, Inc., a research and development specialist in regenerative medicine, is to survey opportunities to create a business using MGC technology in the field.
Under its Medium-term Management Plan "MGC Advance2020", MGC defines the medical/food field as one of five target fields of business to focus on. In connection with medical, MGC has a broad range of products and technologies including oxygen absorbers for medicine and medical equipment, multilayered plastic containers for medical use, and techniques related to antibody and nucleic acid medicines. The investments in the three companies will help MGC develop its medical/food field even further.
<Investment Overview>
1. CONSONAL BIOTECHNOLOGIES Co., Ltd.
Company name
CONSONAL BIOTECHNOLOGIES Co., Ltd.
Location
Mitsubishi Building, 5-2 Marunouchi 2-chome, Chiyoda-ku, Tokyo, Japan
(the same building with MGC)
Business description
Development of allergy test chips *
Established
January 2018
Capital
13 million yen
Investment
April 2018
Purpose
Devote MGC business resources to strengthen joint research and thereby enable the launch of allergy test chips in 2021.
Remark
The venture is now an MGC subsidiary.
*Note: Allergies, also known as allergic diseases, are conditions caused by hypersensitive immune reactions to substances such as pollen and food ingredients. Typical allergic symptoms include runny noses, diarrhea and hives. These immune reactions are caused when allergic substances combine with antibodies.
The traditional blood testing of allergies addresses the reaction that antibodies from the patient develop in an allergen extract (solution containing the allergic substance). The drawback is that the complexity of the process by which the symptom appears can prevent the test results from correctly reflecting the symptom.
MGC and CONSONAL BIOTECHNOLOGIES have developing the test chip which divides the sample allergen into fragments and identifies the part of the allergen that combines with antibodies. The new test chip facilitates rapid testing and provides highly accurate information using a small amount of blood and can therefore be used to test small children. MGC's material and forming technology helps stable performance and the possibility of mass-production.
▼Test Flow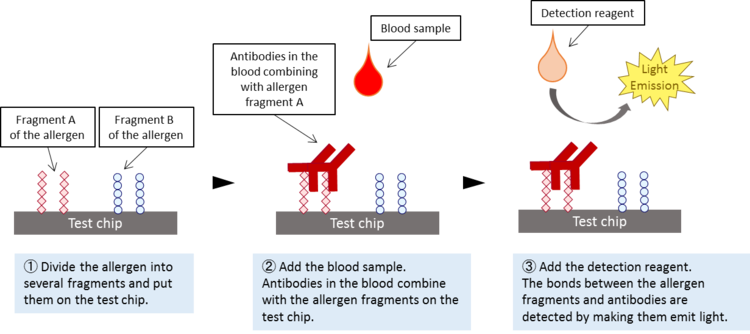 2. WHITESPACE ENTERPRISE Corporation
Company name
WHITESPACE ENTERPRISE Corporation
Location
1305 W Auto Drive Tempe, AZ 85284, USA
Business description
Commercialization of technologies developed by the University of Arizona and other institutions,
including disease diagnosis devices and small automatic processing equipment
Established
2007
Capital
15.8 million US dollars
Investment
March 2018
Purpose
Establish joint development to jointly enter the market for medical test equipment
Remarks
MGC will conclude a joint research agreement with the University of Arizona,
the founder and technical advisor of WSE, under which MGC researchers
will be sent to the laboratory of Professor Frederic Zenhausern.
Website
http://wsecorp.com/
3. NC Medical Research, Inc.
Company name
NC Medical Research, Inc.
Location
17F Shiroyama Trust Tower, 3-1 Toranomon 4-chome, Minato-ku, Tokyo, Japan
Business description
Research and development of mesenchymal stem cell-based regenerative medical technology
to treat acute-stage cerebral infarction
Established
December 2004
Capital
305 million yen
Investment
April 2017
Purpose
Explore opportunities to enter the regenerative medical market
End
Inquiries
Corporate Communications Division
TEL: +81-3-3283-5040