Advanced Business Development Division
MGC established the Advanced Business Development Division in April 2015 with the express objective to "create and cultivate new businesses." Comprising the Business Strategy Group, Business Development Group, the division guides the cultivation of new businesses along a clearly defined path from framing the target business domain and formulating a business concept proposal to setting of research task, market development, and commercialization. The division takes the route with the highest prospect for successful commercialization, which can include collaborative open innovation and capital participation in venture firms as well as M&A.

The MGC Group medium-term management plan identifies five target domains for the "creation and cultivation of new businesses."
Medical/
Food
Information/
Communi
cations

Mobility

Energy

Infrastructure
Key Results and Activities
Medical/Food Business Area
Developed OXYCAPT™ plastic vials and syringes with gas and water barrier properties
Most vials and syringes used in medical institution around the world are made of glass. Glass offers exceptional gas barrier properties but has a number of elements that make it less than ideal, including its fragility, the need for extra care for disposal, relatively heavy weight, the elution of inorganic substances, and adsorption of protein.
MGC developed the multilayer plastic container OXYCAPT™ as an alternative for vials and syringes that solves virtually all of the problems associated with glass instruments. OXYCAPT™ is the world's only multilayer plastic container that offers an equivalent gas barrier property as glass along with a high oxygen barrier as well, making it suitable for use with biopharmaceuticals and other oxygen-sensitive drugs.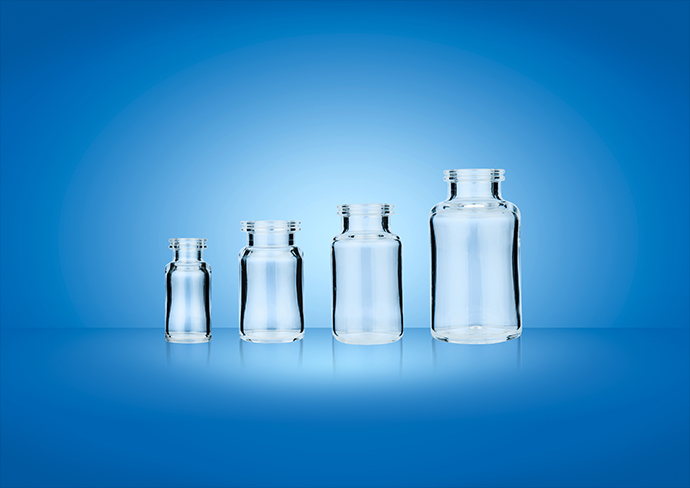 Details
Technology name
OXYCAPT™
Product form
Vial, syringe
Development objective
Provide an alternative to glass containers used for injections
Advantages
Lightweight, eliminates glass breakage accidents, very low inorganic compound elution
Features

Oxygen and water vapor barrier from three layers of MGC oxygen absorbing polymer and COP
World's only plastic containers with gas barrier ability equal to glass containers

Application
Usable with biopharmaceuticals and other oxygen-sensitive drugs
Commercialization start year
2019
OXYCAPT™ with multiple layers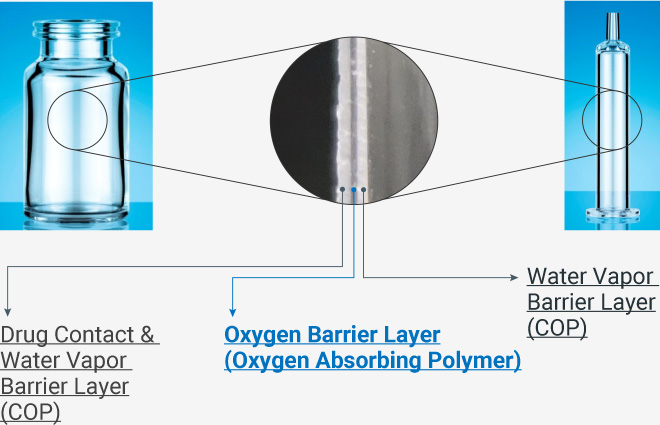 Oxygen Concentration with Time
Oxygen permeability testing
<10mL Vial>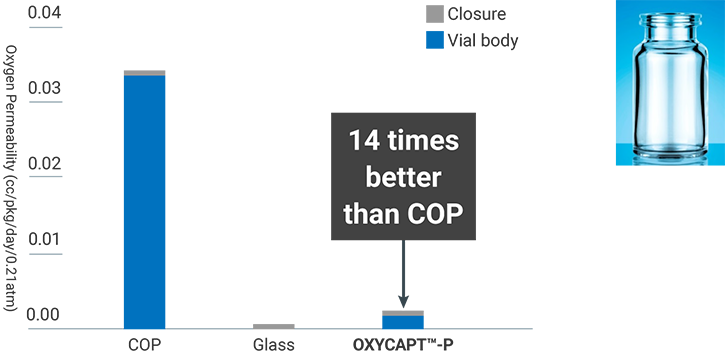 <1mL Long Syringe>
Measurement device: MOCON OX-TRAN® 2/61
Condition: 23℃ / In 100%RH, Out 50%RH
Water vapor permeability testing
<10mL Vial>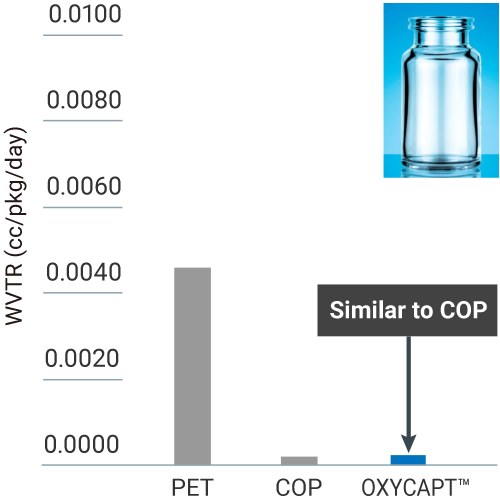 <1mL Long Syringe>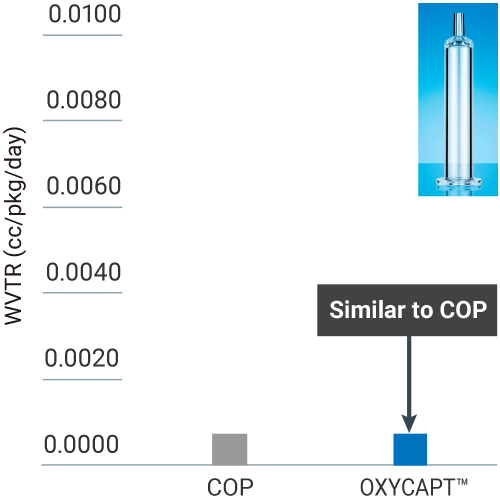 Measurement device: MOCON PERMATRAN-W® 3/33
Condition: 40℃ / In 100%RH, Out 5%RH
Medical/Food Business Area
Applying our chemical expertise in the emerging factory farming business
Plant factory grow agricultural produce inside buildings where, unlike farming in fields or greenhouse farming, the optimal growing conditions are completely controlled, such as the levels of light, temperature, humidity, carbon-dioxide concentration, water, and fertilizer.
MGC has constructed a large-scale plant factory that fully depend on artificial lighting with LEDs. The building creates the optimal growing conditions for growing safe and secure leaf vegetables and eliminates the impact from weather fluctuation, enabling a stable supply of produce. MGC is applying its expertise in chemicals related to providing safe and secure food products to growth analysis and quality control for vegetables, and recreating the most efficient cultivation conditions. We are developing the factory vegetable production business to be a sustainable agriculture model.
Details
Business name
Plant factory business
Factor features
The large-scale plant factory that fully depend on artificial lighting.
Product
Leaf lettuce, baby leaf, and other leaf vegetables
Production volume
2.6 tons per day (32,000 heads of 80 gram leaf lettuce)
Advantages
Year-round stable supply, reduced food waste
Partner company
Farmship Inc.
Proven operator of large-scale factory farms using 100% artificial light and marketer of produce
Location
On the premises of the MGC QOL Innovation Center Shirkawa
Production start year
2019
Features of plant factory that fully depend on artificial light
Production volume over 100 times higher than traditional farms
No damage from weather, soil conditions, or other natural environment risks
Highly efficient use of resources, such as nutrients
Uses about half the amount of water of traditional farming
Uses very little inorganic fertilizer and produces minimal drainage of environmental pollutants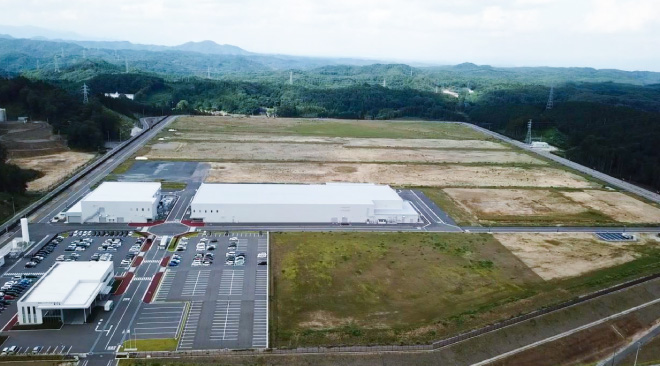 Mobility Business Area
Developing mass-production technology for "solid-state electrolytes using complex hydrides" to realize high capacity lithium-ion batteries
All-solid-state batteries are battery technology that uses both solid electrodes and solid electrolytes.
All-solid-state batteries offer ideal characteristics for use in electric vehicles as, unlike liquid lithium-ion batteries which carry the risk of leaking liquids or catching on fire, they are not only very safe but also promise higher energy capacity and faster recharging.
MGC has developed technology enabling mass production of solid electrolytes. Existing production methods are not conducive to mass production because they create electrolyte by mechanical milling. We applied our chemical expertise to develop a method of liquid-phase synthesis using organic solvent that is not only amenable to mass production but involves relatively simple manufacturing processes.
Details
| | |
| --- | --- |
| Technology developed | Mass-production technology for solid-state electrolyte |
| Application | All-solid-state lithium-ion batteries |
| Features | Enable mass production, simple process, low installation cost |
| Advantages | Extends electric vehicle cruising range, shortens recharging time, increases safety |
| Commercialization target date | Targeting adoption in the 2020s |
*Complex hydrides are produced by synthesizing metallic ions (lithium, sodium, etc.) with hydride ions (ammonia, boron, etc.).
What are all-solid-state lithium-ion batteries?
All-solid-state lithium-ion batteries use solid rather than liquid electrolytes to conduct a charge between the positive and negative electrodes.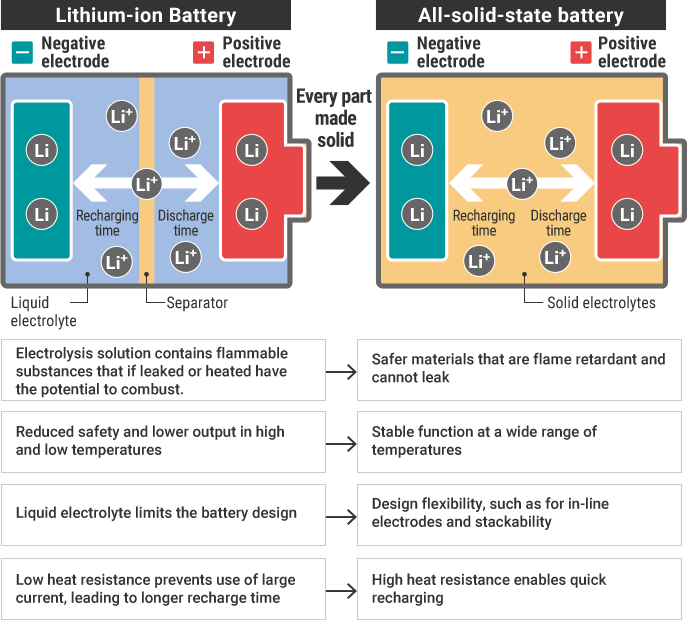 Information/Communications, Mobility, and Medical/Food Business Area
Marketing rights for active optical cable enabling high-speed, high-capacity communications
Active optical cable (AOC) enables high-speed, high-capacity data communications beyond the capability of electric signals sent on passive copper wiring. AOC can also readily replace copper wiring because it uses electrical-to-optical converters at each end for the data transmission. Currently used primarily at data centers and for 4K and 8K TV displays, AOC has potential applications in a wide range of fields, with particular promise in the medical field.
MGC is aiming to be on the cutting edge of the development and marketing of AOC technology and invested in a venture firm to obtain marketing rights. MGC plans to use its polymer technology, molding technology including nano-imprinting technology, and multilayer substrate manufacturing technology to enhance the performance of AOC by reducing signal noise during transmission as well as to lower manufacturing costs.
Details

Invested company
Optomind Inc. (South Korea)
Specialization
Optomind has proprietary design technology for simplifying optical interconnect and active optical cable manufacturing technology that is more cost-effective and enables higher-volume production than manufacturing of existing optical cables.
Investment objectives

Activate synergies with MGC polymer technology, molding technology, and multilayer substrate manufacturing technology
Pursue potential to expand the market into the medical, mobility, and virtual reality fields.

Advantages
High-speed, high-capacity data transmission; reduced noise in optical signal transmissions