Licensing of Formalin Production Process to Indonesian Adhesive Manufacturer and Commercial Operation Commencement
March 06, 2018
Mitsubishi Gas Chemical Company, Inc. (Head office: Chiyoda-ku, Tokyo; President: Toshikiyo Kurai; hereinafter "MGC") and Cosmo Engineering Co., Ltd. (Head office: Shinagawa-ku, Tokyo; President: Katsuyuki Ihara; hereinafter "CEC") received an order from Indonesian adhesive manufacturer P.T. Gelora Citra Kimia Abadi ("GCKA") for licensing of the formalin production process ("the Process") owned by MGC, design of plant equipment and procurement of construction equipment. Completed formalin production plant began commercial operation in December 2017.
Formalin is a methanol derivative used to make adhesives, resins, and paints. The formalin produced by GCKA is used primarily as a plywood adhesive and is sold as an adhesive to its group companies and local Indonesian companies.
The Process uses silver as the catalyst, and its biggest characteristic is that the initial investment is low and operations are simple compared to other processes. MGC has been engaged in the construction of formalin production plant using this technology and licensing the Process to other companies since the 1950s. The Process license has been sold for more than 60 applications in Japan and other countries. Three of these were sales to GCKA, and this makes the fourth.
Formalin consumption is increasing in China and other Asian countries as industrial materials, such as adhesives, paint, etc. and continued plant demand is expected. MGC and CEC will continue to actively contribute to addressing the increasing demand for formalin in Asia through licensing, plant construction and other such efforts.
Overview of GCKA
Company name :
P.T. Gelora Citra Kimia Abadi
Location of head office :
Jakarta, Indonesia
President Director :
Freddy Limawan
Overview of Formalin Production Plant
Construction Site :
Temanggung, Indonesia (Central Java)
Production Capacity :
130 tons/day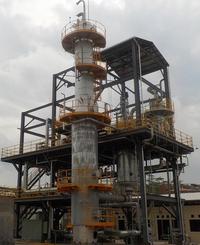 Completed formalin production plant
Contact
Mitsubishi Gas Chemical Company, Inc.
Natural Gas Chemicals Company
Planning & Development Division,
Tel: +81-3-3283-4756

Cosmo Engineering Co., Ltd.
Overseas Sales & Marketing Dept.,
Tel: +81-3-5462-0166